Discover Belle-Île-en-Mer
Located in Southern Brittany, 15 km off the Quiberon peninsula and the entrance to the Golfe du Morbihan, Belle-Ile-en-Mer, or more commonly Belle-île, invites you to admire its charming, colorful houses along the quays as soon as you arrive at the port of Le Palais.
You won't be indifferent to the charm of this island, which will provide you with pleasant moments and good memories during your outings with family or friends.
What to see :
The Citadelle Vauban has been welcoming visitors since Louis XIV commissioned Vauban to fortify it.
The Grand Phare (52m high) with panoramic view.
La belle fontaine (860,000-litre water reservoir)
The needles of Port Coton (painted by Claude Monet)
Locmaria Romanesquechurch
Pointe des Poulains classified as a protected natural site
Belle-Île : breathtaking panoramas, wide open spaces, cliffs, protected nature (Natura 2000 site).
Useful info :
Belle-Ile Tourist Office :
Locmaria Town Hall:
Compagnie Océane (Quiberon – Saint-Palais boat service) :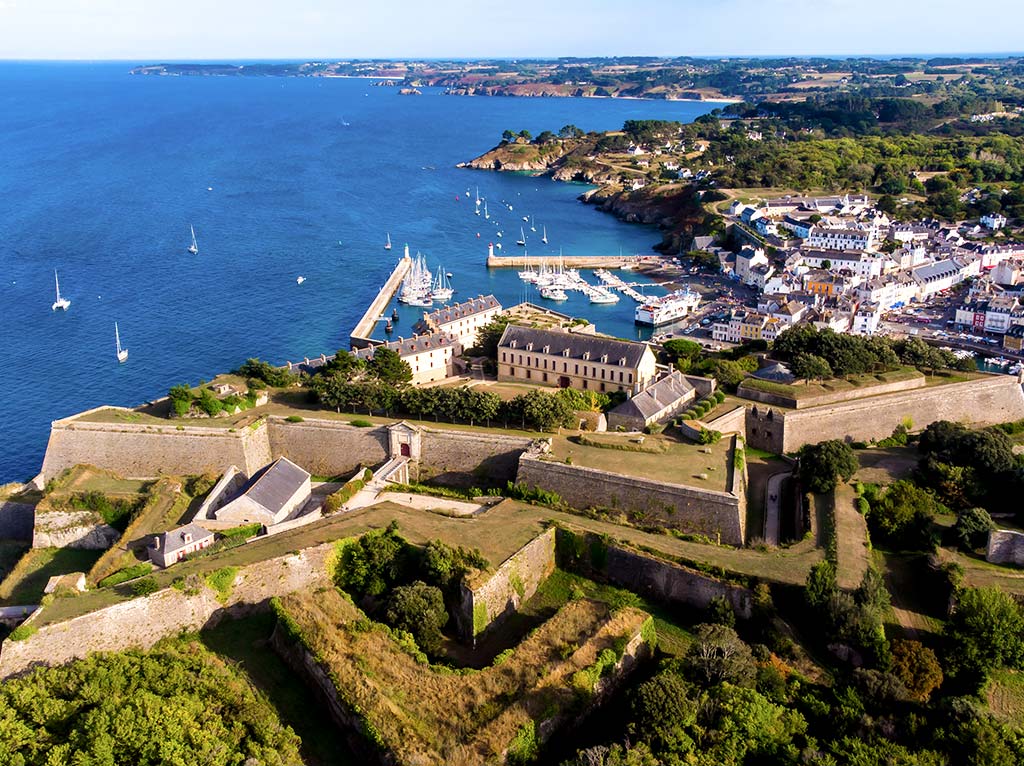 The Vauban Citadel
The Vauban citadel at Palais is one of the island's must-see monuments. Guided tours are organized in high season, explaining the history and organization of the defensive system in Vauban's time.
Strolling through the citadel's gardens is a delight, with a magnificent view over the port of Le Palais.
A breathtaking view from the Grand Phare
The 52m-high Goulphar lighthouse, designed by Augustin Fresnel, is located in the commune of Bangor.
After climbing 247 steps to the top of the Grand Phare lighthouse, you can enjoy a breathtaking view of Belle-île.
Guided tours are organized in season and during school vacations.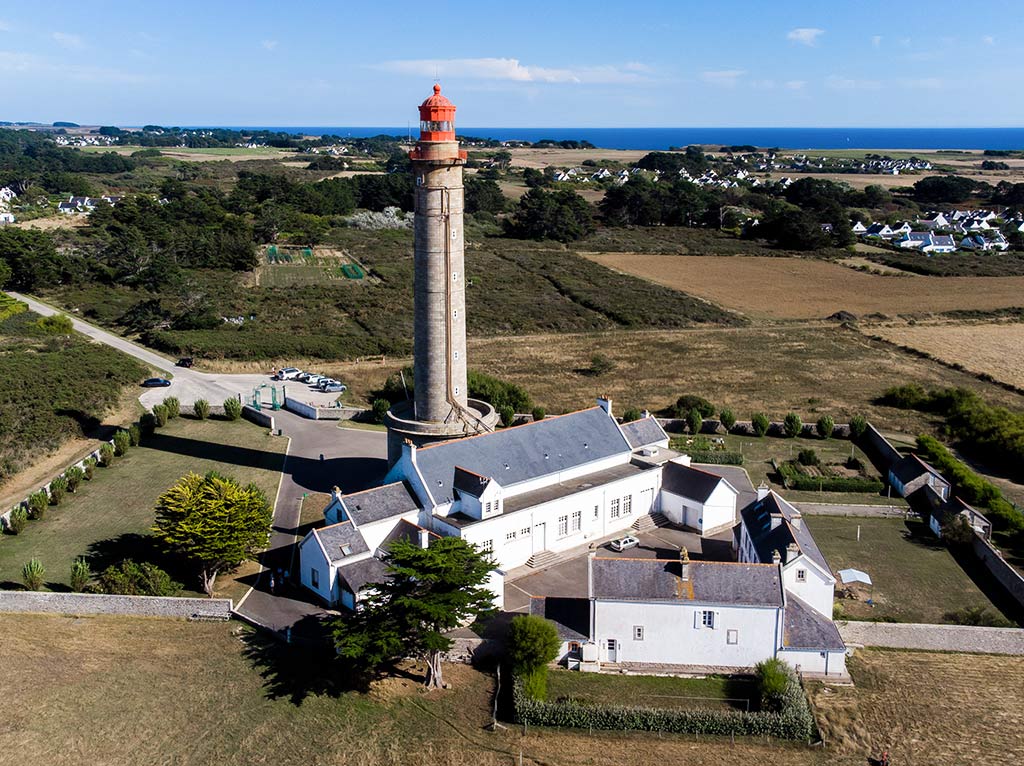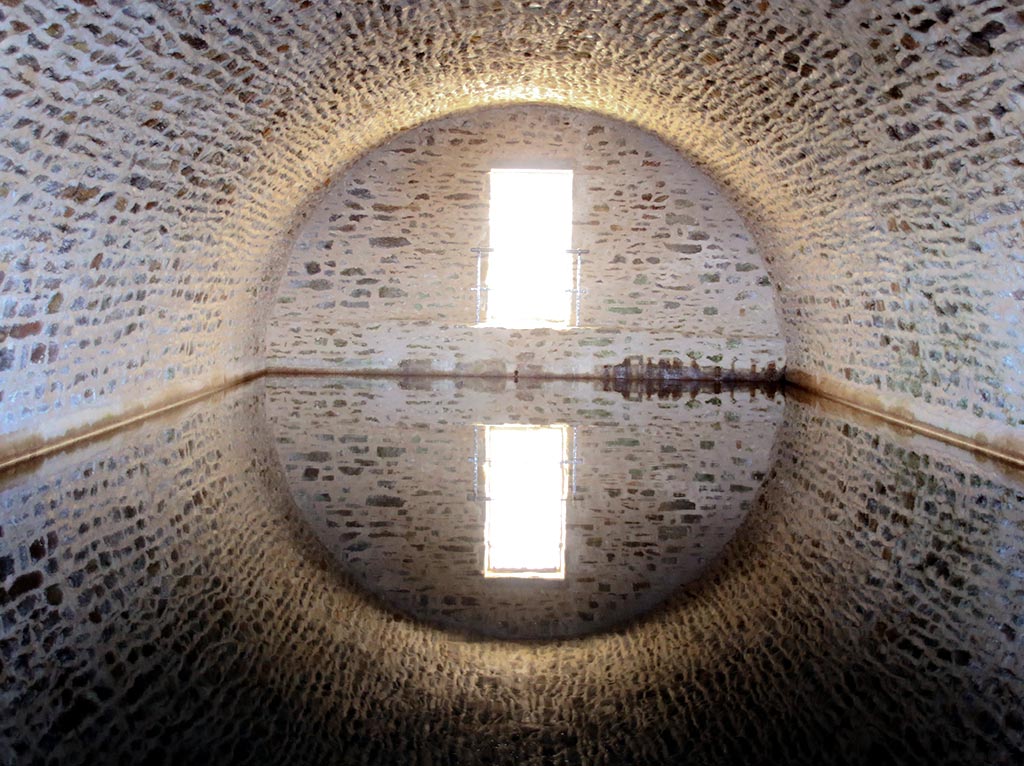 Discover Belle Fontaine
La Belle fontaine is open daily in high season from 9am to 5pm.
La Belle Fontaine is also known as "Aiguade de Vauban".
At the time, this freshwater cistern was used to supply drinking water. Take advantage of a hike along the GR to stop off at this monument, which is well worth a visit. Admission is free.
Don't miss the Aiguilles de Port-Coton
The Aiguilles de Port Coton are located in Bangor. Come and observe these fine, long rocks, which look like great needles surrounded by ocean. The sea foam that surrounds these long rocks will no doubt remind you of cotton. Painter Claude Monet painted several works of Belle-île, including one of the best-known depicting the needles of Port Coton.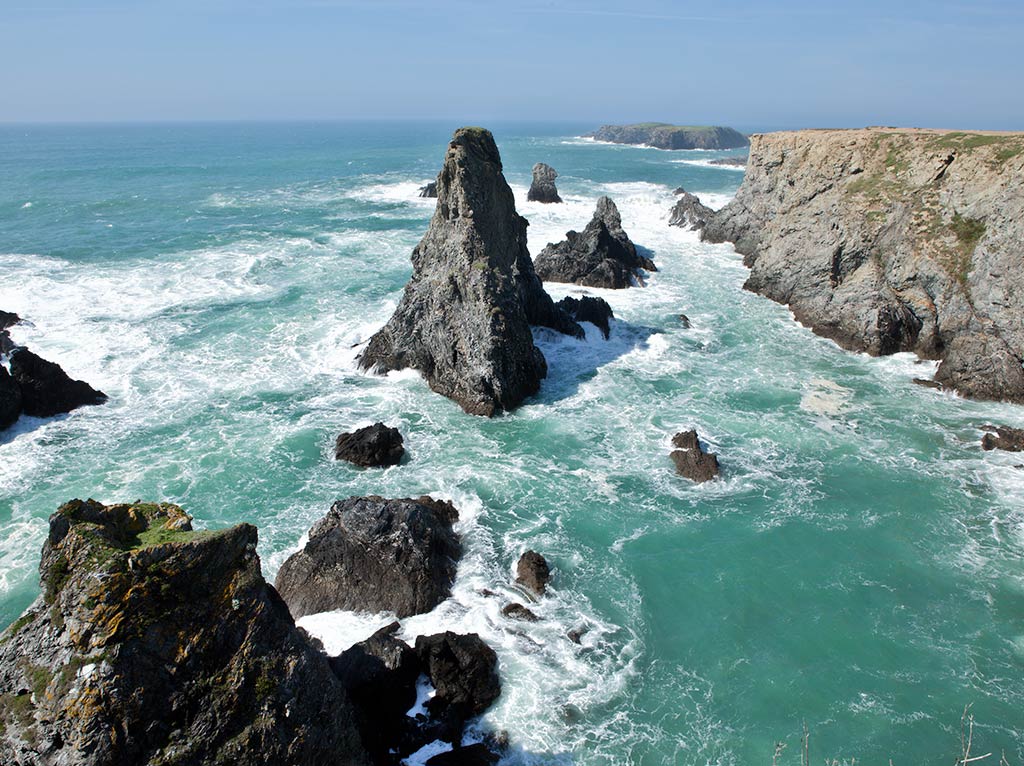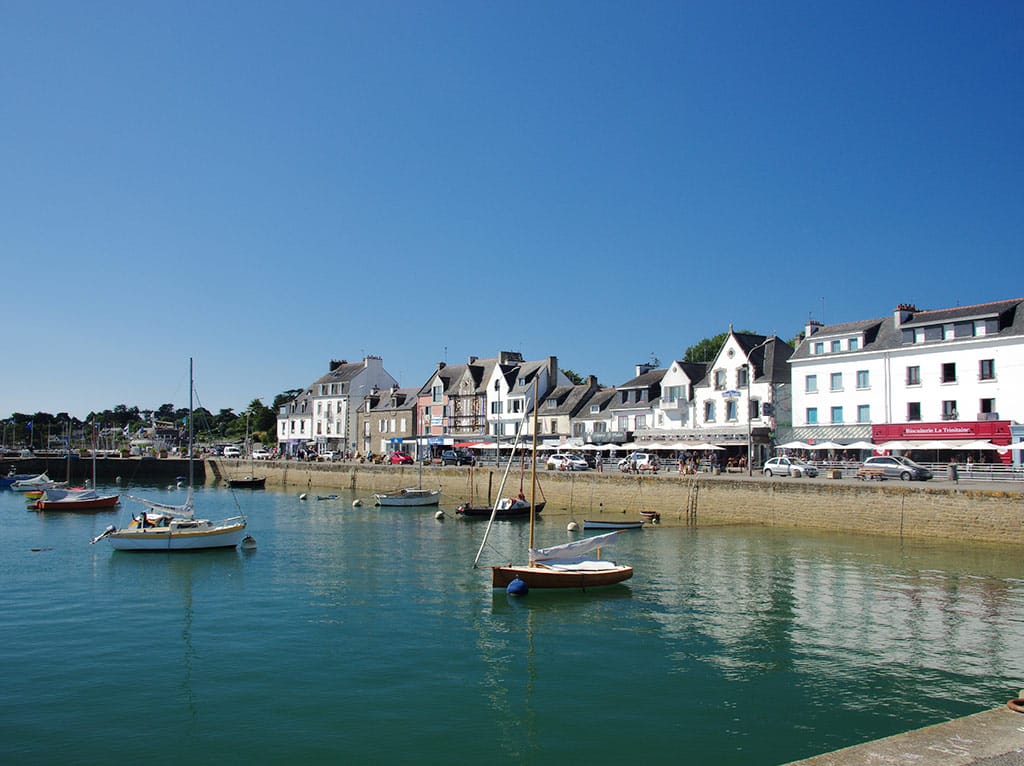 Visit Locmaria church and this charming village
When you stay at the Grands Sables campsite, you won't want to miss the magnificent Notre-Dame-de-l'Assomption church in the village of Locmaria, the oldest church on the island. This atypical church is full of charm, with its pepperpot-shaped steeple and needle-shaped bell tower.
Take advantage of this detour to Locmaria and let yourself be carried away by the gentle way of life in this village, which we particularly like. You'll discover the island's most rugged beaches , with the highest cliffs on the island surrounding the town, right up to the 2 km-long Grands Sables beach. Life is peaceful in this little corner of paradise in the south of the island, and most shops are open year-round. We'll let you find out…
The Pointe des Poulains site
Come and discover this wild place where tragedienne Sarah Bernhardt spent many years of her life. Pointe des Poulains is a breathtaking site, where you can enjoy magnificent walks in all seasons to soak up the beauty of this extraordinary place. Tours are organized in season.
Find out more about our rentals and activities on site and in the surrounding area