Unusual rentals
in Belle-Île-en-Mer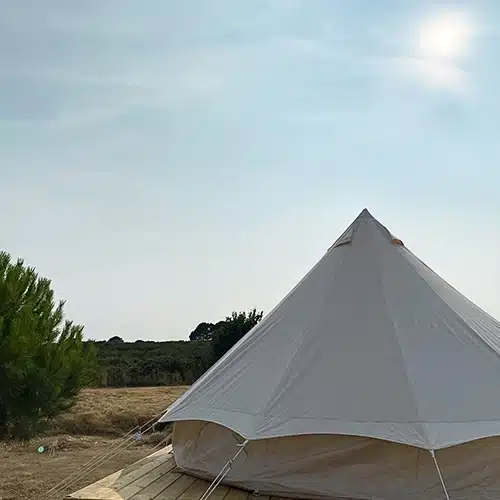 Glamping in Morbihan
From the outset, we've enjoyed talking to you, and we've listened.
This year, at the camping les Grands Sables in Belle île en merwe are proposing to diversify our rental accommodation offering, starting with the installation of a Bell Glamping tentThis large 4-m diameter Tipi, with its 3-m high mast, provides plenty of room to move around, whether you're a couple, a group of friends or a family.
Rent an unusual accommodation in Belle-Île-en-Mer
Not sure whether to book a bare pitch to pitch your tent, or rent a chalet or mobile home?
We now offer you a unforgettable and unusual glamping experience in a Mongolian tentThis is a simple way to enjoy the present moment, the mildness of the Bellilois climate, the sweet scents of nature, the songs of the birds at the end of the day, followed by those of the locusts. A perfect harmony that you can witness in an atypical accommodation on Belle-Île.
You don't need to carry around your tent, sleeping bag and air mattress when you rent an unusual rental. The Bell Mongole tent is already set up on a small wooden terrace, with two comfortable mattresses on the ground, two deckchairs, a coffee table and sunsets awaiting you, facing nature as far as the eye can see.
We look forward to welcoming you to this new discovery of unusual accommodation in Morbihan.
We continue to work daily on our range of rentals to ensure maximum comfort during your unusual stay at the Grands Sables campsite, minimum space requirements during your hikes, and above all that you return home from your stay in the Grands Sables campsite. atypical vacations in Belle île en merI'm looking forward to coming back very soon.
Discover our other accommodations, our pitches and our camping rates